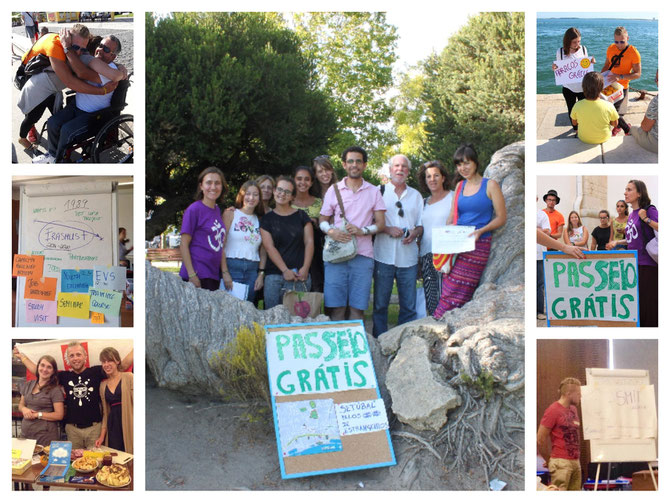 Setubal, Portugal

06 - 13.09.2015

We are happy to announce that SMIT "CREATOR" members were participating in the Training Course project called  Open up to learn co-ordinated by Ananda.
OBJECTIVES
(A). Give to youth workers, tools and methods to increase youth self-awareness and self-development;
(B) Support organizations and youth workers to increase capacity in youth education about healthy lifestyle, healthy food and healthy behaviors;
(C) Increase the youth leaders communication techniques to help them to develop soft skills of youngsters with fewer opportunities;
(D) Develop a long lasting partnership for implementing future Erasmus + projects, to fight youth unemployment and its consequences towards youth;
(E) Develop an adequate approach to entrepreneurship for youth workers and youngsters to fight youth unemployment.
LEARNING OBJECTIVES
(A1) Explain the importance of concentration techniques in youth work;
(A2) Knowing how to implement two concentration exercises;
(B1) Identifying the key elements of a healthy meal and healthy lifestyle;
(B2) Establishing the 5 next steps for having a healthier life and integrate that practice future youth work;
(C1) Assimilate the concept of active listening;
(C2) Identify public speaking techniques and knowing how to develop them;
(C3) Identify the difference of internal and external communication;
(D1) Assimilate the importance of a sustainable impact and dissemination of the project results;
(D2) Identify the Erasmus + possibilities regarding non-formal education and its priorities;
(E1) Describe the first steps for developing an idea into practice using entrepreneurship skills;
(E2) Create and implement an activity for the local community regarding the themes of the project.
GENERAL OUTCOMES
The project in a general form, intends the participants to acquire:
a positive awareness and understanding to other cultures and backgrounds;
knowledge that will allow them to develop their personal and professional life;
new perspectives and opinions upon the subjects of the project;
inspiration to involve youth in projects regarding healthy life-styles;
practical knowledge to engage youth to entrepreneurship;
new skills regarding communication.
Project results