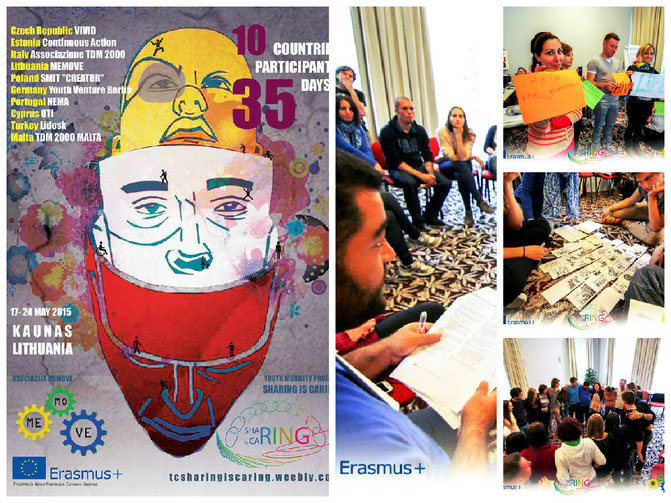 Kaunas, Lithuania
17-25.05.2015
We are happy to announce that SMIT "CREATOR" members were participating in the Training Course project called Sharing is caring co-ordinated by Association "MEMOVE".

Alienation resulting from social exclusion is often connected to a person's social class, educational status, childhood relationships, living standards, or personal choices in fashion. Such exclusionary forms of discrimination may also apply to people with a disability, minorities, members of the LGBT community, "seniors", as also young people. Anyone who appears to deviate in any way from the "perceived norm" of a population may thereby become subject to coarse or subtle forms of social exclusion. 
 The main theme of the training will be focused on raising European awareness of the realities and possibilities for more inclusive society in the anti-discrimination youth projects with marginalized groups, against social exclusion. Social indifference and apathy regarding different social groups and social conflicts, lack of social activity and methods for improving the situation of socially marginalized groups represent a problem in multicultural communities of Europe. Inclusion is a process of identifying, understanding and breaking down barriers to participation and belonging. With this training we aim to increase the skills and the background of the Youth workers, whom can offer opportunities to young people, to prevent and to remedy the social exclusion. Its main aim is to develop the skills and knowledge of the youth workers and youth leaders and to make them 
more prepared to contributed social inclusion and active participation of youngsters with fewer opportunities. Moreover we are planning to attract the attention of the European politicians and with a recommendation on strategies of better social inclusion made by young people and presented the new retrospectives of the development in the flied.
The Training course is based on non-formal education methodology which will include on open and interactive approaches and directly aiming at creating a safe learning environment for the participants, environment that would facilitate the development and acquisition of new skills, competencies and attitudes and thus contribute to social and personal development.