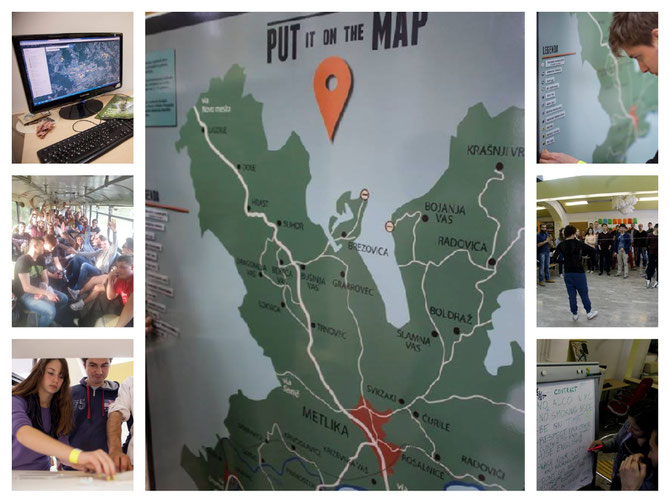 Metlika, Slovenia
11-19.04.2015 
We are happy to announce that SMIT "CREATOR" members were participating in the Youth Exchange project called  Put it on the map co-ordinated by Kulturno umetniško društvo Plac, KUD Plac.

Put it on the map is a multilateral, international youth exchange held between 11-19 April 2015 in Metlika, Slovenia. 36 youngsters with fewer opportunities, creative artists, designers, painters, youth workers, unemployed young people from Portugal, Poland, Romania, Former Republic of Macedonia, Serbia and Slovenia will have a great chance to create a unique artistic city map, and point out local companies and their products with the main goal of raising the awareness of local producers, farmers and small self - sustainable communities. This youth exchange is responding to youth needs due to difficult economic conditions in the participating countries and their will to improve self employment with developing skills and competences.
Main objectives of the project is to raise awareness about a sense of initiative and entrepreneurship that helps to increase peoples' possiblities for employment in the competitive labor market. To underline those entrepreneurial skills can also help young people adapt to other career paths and to inter-cultural working environment, especially with nowadays high migration rate in Europe. With creating this unique map, participants will increase awareness of inter-cultural dialogue and a free exchange of European values among youth.
During a whole week various and challenging activities of non-formal education methods and tools will be used. 36 youth workers and volunteers coming from 6 different European countries will learn how to launch their own business ideas by getting different entrepreneurial skills and practical knowledge. As an example of a "start-up" participants will learn how to make by themselves a city map using different materials, techniques, design methods which are going to be used in the creation of the city map, which will point out local craft-makers and their products. With creating this map they will gain very valuable and appreciated knowledge on how to start up their own business, step by step, as they will have to communicate with local producers, farmers and business owners.