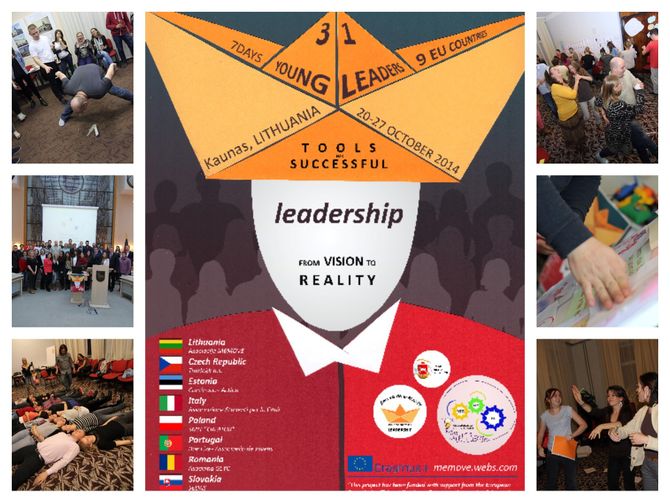 Kaunas, Lithuania

20-27.10.2014
We are happy to announce that SMIT "CREATOR" members were participating in the Training Course project called Tools for successful leadership - from vision to reality co-ordinated by Association "MEMOVE". 
"Before you are a leader, success is all about growing yourself. When you become a leader, success is all about growing others." Each leader in order to make his team growing has to  implement entrepreneurial skills, such as leadership,time management , communication and social skills,management and other. Its very important that youth leaders have right tools in order transfer relevant information to the local realities and make others grow,developing their transversal competences and teaching how young people of today can use them to achieve their goals, become more employable and build a better society of tomorrow.
The main objectives of the training course are:
- raising awareness of the importance of transversal competencies in order to be competitive and employable on the future labor markets;
- encouraging positive interaction among the youth of different EU countries by involving them in a week of activities together;
- supporting young people's personal growth and employability by helping them acquire new entrepreneurial and soft skills and developing new competences that can be used to achieve a higher success in their projects.
Moreover, then 27 young motivated people will come back to their countries and start to act as 
professional leaders of their organisations and communities,a huge number of other young people will be affected and included in the process of the good changes and this idea will have an impact on the society.During the project participants will make a research and the comparison of what does the labour market need and how does the education system prepare youngsters, collect the best practises and identify the main gaps and will construct the recommendation.