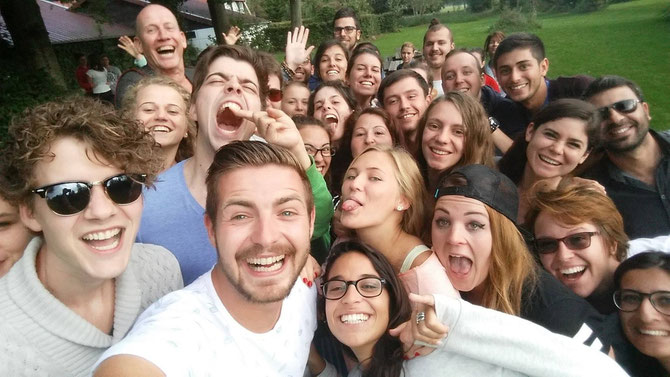 Bant, Netherlands 
05-15.09.2014
We are happy to announce that SMIT "CREATOR" members were participating in the Training Course project called Your Body and Spirit are the corner stones of European Society co-ordinated  Rock Solid Organization. 
This is a training course we wrote before and  after some discussions with NA we agreed i would apply again for the first deadline of Erasmus+ as a training course, it will be held in The Netherlands in Bant. There will be 12 partner promoters from programme countries with each 3 participants and two trainers and one facilitator, so in total 39, the number of program days will be 9. the participating countries are the Netherlands, Croatia, France, Greece, Hungary, Italy, Turkey, Poland, Portugal, Romania and Spain.
We decided to prepare a training course "Your Body and Spirit..."  to introduce youth leaders and youth workers to different types of non formal learning connected to sports and a healthy life style. because you can not carry out The whole training course by just "doing sports" together. We will play different types of activities and after each activity we will find out the methods, when it is good to use it, why to use it, who is the appropriate target group, etc.  So we can help the participants to discover the possibilities in teaching youngsters about how to live a healthy life. Next to that its very important to stress out to the partners that its very important to try to include all kind of vulnerable groups and youngsters, and if you give it a little more attention it is in reality not that difficult to do it.
We think that game and leisure or doing sports should always be part of our life, to underline the importance of the leisure in combination with leading a healthy lifestyle in everyday life and in the learning. In preparing this training course, we found ourselves in some little stress, while deciding which activities (games) would be appropriate in this for us new kind of training course with topics we did not address before (besides the EU citizenship and inclusion of course) . Results of training course will be prepared in brochure form which will include different types of activities and methodology which you could use specifically maybe in sport clubs and competitions. The brochure will be distributed to all the participants in English. A version will be given to each partner in electronic support. The aim of this electronic format is t give to each partner the possibility to translate the book in their own language so that it could be used also at local level. The brochure will be available also to other organizations and all those will be interested from our and from our partners web sites. if it is what we like it to be we will also present this to salto and Erasmus+.