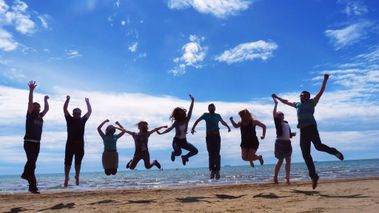 Tirana, Albania
15-22.05.2014 

SMIT "CREATOR" members were participating in a TC titled Lets Empower Rural Areas co-ordinated by Association "WOMEN TOWARDS INTEGRATION"Albania and held in Tirana, Albania. 
Let's Empower Rural Areas (LERA) is a Training Course, Action 3.1 to be implemented in Tirana, from Women Towards Integration Association, from 15 to 22 May 2014. This training course shall bring together young motivated youth workers and volunteers from SEE and EU countries working in geographically isolated areas, in a 7 days program to be hosted in Tirana to have the possibility to acquire skills and abilities and develop competences on the topic of youth participation for a sustainable development in rural areas. 
LERA will gather young youth workers from rural areas which are less developed and remote ('geographically isolated' or 'disadvantaged') to exchange their opinions, ideas and best practices on different topics related to empowerment through active participation in rural areas.  
The aim of the project is to boost the involvement of young people in the countryside, how to overcome linguistic barriers, gain support from family and the local community, how to solve practical issues through providing them with a space to get new skills and develop existing ones.  
Objectives:  
a.Foster & enhance the participation of youth from rural areas in social and community 
life;  
b.Promote young people's active citizenship &  their European citizenship; 
c.Empower youth leaders and youth workers with knowledge and skills for active participation and inclusion; 
d.Help young people to create possibilities for themselves through the active youth participation.  
e.Create an inspiring week & promote volunteering and YiA as a tool to empower young people. 
Methodology: 
The training will be implemented using the non formal education methodology, learning by doing approach and the experiential learning cycle. The program will be executed through a variety of workshops and sessions to be further enriched by the experienced team of trainers that will work on the 7 days program.