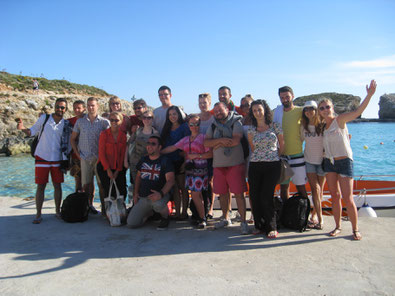 Pembroke, Malta
5-11.05.2014 

SMIT "CREATOR" members were participating in the TC project called The European Parliament Project co-ordinated by TDM 2000 Malta.
'Malta's general voting turn-out for the European Parliament Elections is usually quite high in comparison to that of other Member States. However, one must stop and consider the reasons behind this. Do the Maltese vote for the best representative for their families and themselves in European Parliament or do they simply re-establish their beliefs in the local political scenario? One might also question why the voting turn-out in other Member States is so low. Do European Citizens fully comprehend the implications of their right to vote?
This 5 day long Training Course will revolve around the up and coming European Parliament Elections that will be taking place all over Europe towards the end of May. It will delve into the institution of the European Parliament, its role, its functions and its powers, as well as how it relates to the other institutions that make up the European Union. It will discuss the concept of democracy and explore the true meaning of having the right to vote. It will do this with the scope of combating the general disinterest towards international politics and to encourage youths to be more active in society.
The project will take place making use of non-formal methods of education such as group discussions and more physical exercises like role-plays in order to entice the young leaders to participate and contribute their opinions. The project will be run in Pembroke, Malta and will have a total of 24 participants coming from 8 different countries: Malta, Estonia, Hungary, Italy, Poland, Spain, newly joined Croatia and the pre-accession country of Turkey.'