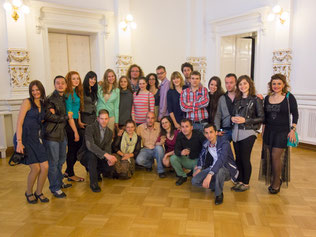 25.04 - 3.05.2014
Novi Sad, Serbia
SMIT "CREATOR" members were participating in a TC titled Europe – Place For All Youth! co-ordinated by European Youth Center of Vojvodina and held in Novi Sad, Serbia. 
The main goal: Promotion of tolerance and multiculturalism among young people with an emphasis on youth from disadvantaged (broken) families and their inclusion into society in the spirit of european values as well as education and empowering socially disadvantaged youth, meeting with current situation in European society and the motivation to continue active engagement and participation in society
The main idea: Education of young people about tolerance in terms of origin, religion, sexual orientation, social status or ethnic minority issues. Raising the awareness of the participants about what it means to be "Young European" whether they are from an EU country or not. Empowering young people to overcome the lack of social factors that affect demotivating and stigmatizing in meeting the fundamental needs of each young man to safety, the right to personal development, equal opportunities of social, emotional, and social well-being as well as to increase awareness of multiculturalism and European social values.
The main product: "Place for all of us!" promote the idea of European youth, the idea of freedom and equality among nations, gender and sexual orientation, religious and sends a clear message, "A society without discrimination." As the final product is planned to be a video and photo exhibit that will promote solidarity and represent all sessions covered topics as well as some of the key moments that have marked the event.
On our training course participants will develop new knowledge and skills in self-motivation, team work, entrepreneurship, tolerance, raising empathy and other skills of self-motivating and self-empowering through non-formal education, and also tend to create more and equal opportunities for young people with social obstacles in education and social envirnoment and their inclusion in modern European society.