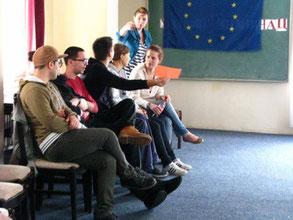 20.02.2014 - 27.02.2014
Topola, Serbia
We are happy to announce that SMIT "CREATOR" members were participating in the Training Course called Our local community is European citizens co-ordinated by Omladinska Kulturna Organizacija and held in Topola, Serbia.
How our identity and citizenship is constructed? Is our belonging to local community related to belonging to European family? Do our participation on EU elections reflect our life and life of local community? What our local community can do in cooperation with and with help of different European structures? In EU enlargement process, do you recognize any part of responsibility of local community, local structures and local youth structures? Try to ask this or similar questions to your neighbors, young people in your place, your co-workers and colleagues. We did. You will be surprised with different answers or even with absolute absence of any constructive opinion. 
Training course "Our local community is European citizens" is designed to offer knowledge and experience to youth workers and young leaders from different organizations and communities in EU in Balkans that can be used to tickle this issues and run local, national and international projects related to European citizenship with specific aim to raise awareness of opportunities that are offered to our communities by European Union and its structures, to raise awareness about importance of participation in EU elections, to help people recognize their role and role of their communities in EU enlargement process and reforms in their countries. Participants will learn how local youth structures and local decision makers can be useful in this job and how they can approach them and influence creation of local policies in relation to European context. All sessions will are created using non-formal education methods. 
Training Course "Our local community is European citizen" under action 3.1 of Youth in Action programme will be hosted in Topola, Serbia and will gather 30 youth workers and young leaders from Serbia, Italy, Poland, Romania, Turkey, Croatia, Macedonia, Albania, Montenegro and Kosovo.