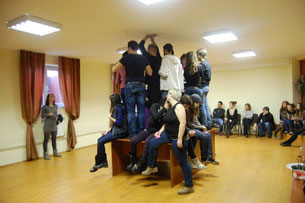 13 - 21.12.2013
Lviv, Ukraine
SMIT "CREATOR" members were participating in a YE titled Disabled snowman co-ordinated by Tufak and held in Lviv, Ukraine.
"Disabled Snowman" Action 3.1 Youth Exchange with partners from Italy, Poland, Greece, Ukraine, Georgia and Turkey, will be in Lviv, Ukraine in the frame of East Europe Partnership. Our specific aims:
--‐To provide support to young people with fewer opportunities living in rural and poor areas 
--‐To increase awareness about the nature of youth work projects
--‐Which facilitates the sharing of best practices in the field of youth work projects 
We will organize an exchange on generalizing YIA project's about Human Rights, immigration and Immigrants life and position of youth Unemployment and poverty with immigration. Six different Partners and 38 young people and 6 youth leader will make a collective work to reach this aim. It will take place in Lviv, Ukrain between the dates 13th--‐21st December.
Main objectives of the program are to inform young people about immigrants and refuge life, immigration in Europe and human and immigrants rights and to increase to heir awareness about human, immigrants and minorities rights in Europe.