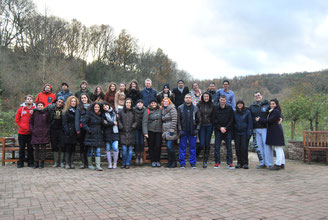 03 - 10.12.2013
Flaxley, Gloucestershire
SMIT "CREATOR" members were participating in a TC titled Eastern Religions And Young People co-ordinated by ASHA Centre and held in Flaxley, Gloucestershire.
The role of Eastern Religions in interfaith dialogue is the main theme of this training. The majority of interfaith courses in Europe often focus on the so called 'Abrahamic' faiths - Judaism, Christianity and Islam - this is often to the detriment of religions originating in other parts of the world, which, in terms of population, antiquity, historical influence and cultural richness are just as important. These religions include Hinduism, Buddhism, Jainism, Sikhism, Zoroastrianism, Bahaism, Taoism and Confucianism. The presence of people in European societies of South Asian, South-East Asian and Far East Asian origin means that people engaging in intercultural dialogue need to have knowledge of the religious aspect of Asian society. It is impossible to understand any culture without studying its religious traditions and practices. A culture's religion encapsulates its people's values and ideas, sets forward their role models and is integrally related to a sense of identity for many.
This project therefore will aim to promote dialogue between young people coming from different faith backgrounds across Europe, particularly in relationship to those belonging to religions originating in South Asia and the Far East. As a consequence, participants will receive deeper knowledge over Eastern Religions also present in Europe, thus increasing their intercultural competencies. Furthermore, the knowledge received will allow participants to reach out to these communities, increasing mutual tolerance and social cohesion.