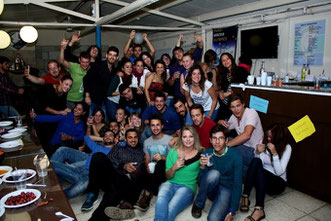 22-30.11.2013
Agios Theodoros, Cyprus
SMIT "CREATOR" members were participating in a YE titled Winter Euro Olypmics co-ordinated by Nautilos Search and Rescue Team and held in Agios Theodoros, Cyprus.
Our project is an extension of our idea for a Euro Olympics project.  In our first project we looked at how we can cooperate through sports to understand the EU system better and see the strengths and weaknesses of each country and how other EU member states help each other.  This project will look at Europe during difficult times and times of crisis and see how we can help each other and how each country stands together or closes a blind eye to other countries in need.  We will work in large groups consisting of one participant from each country so that we can establish an equal distribution of countries. 
Our project will address current difficulties in the EU including youth unemployment, economic crisis, environmental concerns, mobility within the EU and discrimination.  We will also undertake some sporting activities to put us to the test during the cold winter period of the project trying to establish that if we can work together in teams for sports, perhaps our countries can also work together to help each other through the difficult times we face in each of our respective countries.  Other than sports our activities will include role playing, workshops, discussions and debates.  We will take real issues and discuss them to find solutions for our problems together.
We will address European Citizenship and see the advantages and disadvantages our youth see in it.  We will see how many youth are now looking for employment in other countries and how they overcome many of the obstacles associated with cross boarder employment.  We will look at how real the union within the EU is between our youth and our countries.