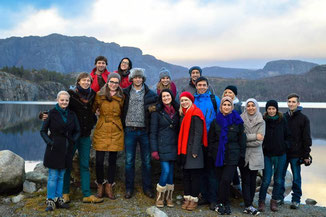 Gjesdal, NORWAY
16 - 23.12.2013
SMIT "CREATOR" members were participating in a TC titled Project Management in Practice co-ordinated by NiTiN and held in Gjesdal, Norway.
PMP - Project Management in Practice is a 7 days training in Dirdal, Norway and will gather 20 youth leaders from Norway, Denmark, Portugal, Poland and Romania. This training is aiming to educate new youth leaders that can promote Youth in Action and be in charge of international activities for youth all over Europe. During this training the participants will get an understanding of youth exchanges and how to design one in terms on form, context, methods and administration. The training will be based on study circle method and the participants will be seen as assets and actively involved in each session.
Aim
The aim of the project is to educate a group of youth leaders that can be the base for an increased cooperation aiming to give young people international experiences.
Main Objectives:
1. Create the base for a strong cooperation
2. Give the participants tools to design and apply for a youth exchange
3. Give the participants tools to design activities that promote intercultural learning and integration
4. Give the participants tools to design child protection and security program.