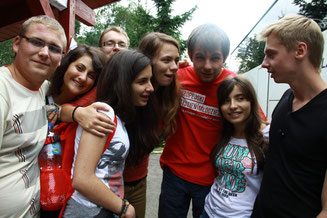 21-31.08.2013
Galyatető, Hungary. 
SMIT "CREATOR" members were participating in a YE titled Action Bridge
 co-ordinated byAcademy of Experience  and held in Galyatető, Hungary. 
Action Bridge is a 10-day outdoor youth exchange for youth aged 15-25.The aim of this project is empowering youth from rural and city areas to make own project ideas in own community come true, and so have a positive impact in their community. The exchange involves unemployed youth and fosters understanding of EU offered opportunities. Our objective is that during the program the participants discover their own importance and usefulness in society and their environment. The participants deepen their knowledge and understanding about EU supported possibilities. With the development and realisation of an own project, they realise that they can be active members in their community and can take positive steps towards a role model behaviour. The organisers give methods, tools and resources that help to develop and realise action plans in the local communities. The project uses the tools of experiential education, by actively involving the participants, creating situations which help to understand ones responsibility and capability for change and also gives own experience.