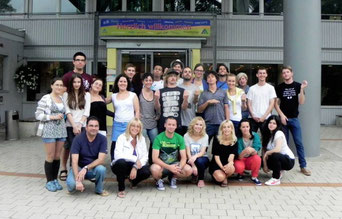 12 - 19.08.2013 
Hannover, Germany
SMIT "CREATOR" members were participating in a YE titled Let's share about active citizenship co-ordinated by IKJA e.V. and held in Hannover, Germany.
This event was held in Hannover, Germany, from 12. 08. 2013 till 19. 08. 2013 and was funded by the Youth in Action Programme. Project was performed in Hannover for eight(8) days. Twenty (20) (18-27 years old) participants and 5 leaders (no age limit) were participate from 5 European countries: Bulgaria, Italy, Rumania, Poland, and Germany
Aim:
The aim of this project is to reach a better understanding of the concept of active
citizenship , and finding tools for the youth about how to participate actively in civil
society.
Specific Objectives
- Providing better understanding of active youth participation
- Be active citizens by sharing ideas about active citizenship between European youth 
- Raise awareness about the importance of active citizens