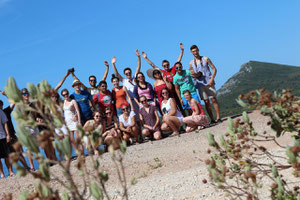 02 - 10.07.2013
Setubal, Portugal
SMIT "CREATOR" members were participating in a YE titled Un Chien Andalou all co-ordinated by Experimentáculo Associação Cultural  and held in Setubal, Portugal.
Cinema and films are one of the best ways to put us to think, to ask ourselves (and the world around us) and show us clues and ideas. It is an art form that relates to the social context like no other, combining thinking with entertainment.
The exchange "Un Chien Andalou" will be held in Setubal, Portugal, and will join 30 youngsters from 6 different countries of the European Union, between 2 and 10 of July 2013. Through the films they will reflect on their own European citizenship and will be stimulated to a bigger participation in their societies as active citizens; they will reflect about the environmental challenges and climate changes that threaten a sustainable future; they will stimulate their creativity and entrepreneurship, becoming more fit personally and professionally; and they will fight all forms of social segregation, which urges eradicate.