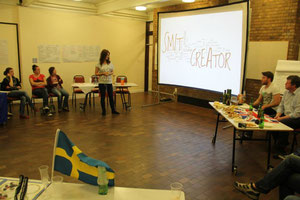 Aylesbury, UK
4-10 Maj 2013
 
SMIT "CREATOR" members were participating in a TC titled One Step ahead all co-ordinated by Momentum World and held in Aylesbury, UK.
The aim of the project is to train and develop younger staff or volunteers in youth organisations on how to organise and lead successful international youth exchange projects. Participants on the course will be more confident about leading groups, and reach higher standards of professionalism. The course will cover:
·

        

Rules and regulations

·

        

Planning and organisation

·

        

Risk assessment and risk management

·

        

Selecting and preparing participants

·

        

·

        

Inclusion and special needs

·

        

Professional standards and personal behaviour

·

        

Intercultural and religious issues

·

        

Anticipating and dealing with problems

·

        

Documentation and reporting

·

        

Evaluation and capturing / measuring learning outcomes

·

        

Follow up activities
This is a practical, hands-on course. Each participant will have the chance to act as group leader for at least one session. Activities will include team building, interactive discussions, outdoor education, team challenges and intercultural evenings. There will be review and reflection sessions every day and plenty of time free for informal discussions and thinking about future partnership projects.