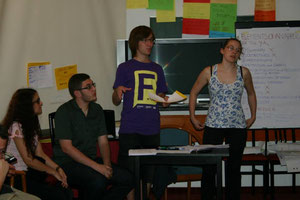 Croatia
02 - 09 Maj 2013
 
SMIT "CREATOR" members were participating in a TC titled Join Hands for youth entrepreneurship all co-ordinated by HUK and held in Croatia. 
Join hands for Youth Entrepreneurship Training Course   aims  to provide youth leaders and entrepreneurs with applied knowledge on how to spark an entrepreneurial spirit among young people and how to run quality youth projects, which could help to revert the negative trend of growing youth unemployment in Europe.  Our course, run by 30 participants, two trainers, 1 facilitator and 2 support staff from 10 EU countries, will be open to young people from EU and SEE region offering selected items of the agenda to a wider public in duration of 7 working days and will take place in
Croatia. Inter-generation partnership with experienced entrepreneurs will enrich mostly non-formal working methods aimed at unleashing creativity and innovation in youth work. As a result quality youth projects on youth employment will be developed by the NGOs represented, young people's entrepreneurial ideas will emerge and for their proper implementation sustainable partnerships will be established.