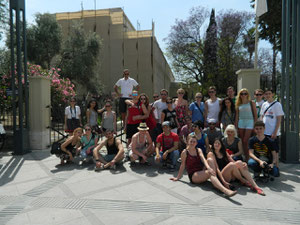 29.04 - 04.05.2013
Limassol, Cyprus
SMIT "CREATOR" members were participating in a YE titled I am an EU citizen all co-ordinated by Dorea and held in Limassol, Cyprus. 
The sense of citizenship is one of the most important issues/concepts which the people of an EU member country should be aware of. The project "I am an EU Citizen" aims to encourage youths from different EU countries to be proud of saying "I am an EU Citizen", motivate them in paying attention to main EU issues and ensure that they know what it means to be an EU citizen and what are the rights as well as the obligations of an EU citizen. The main aim of "I am an EU Citizen" project is to share the experience of being EU citizen 
and encourage others to act as a responsible EU citizen. The main task is to develop the meaning of citizenship for the EU youths of today. The participants will be from five different countries which have been chosen carefully to serve the purpose of the proposed project. More specifically, the countries have been chosen based on their accession date to the European Union (EU) and have a right balance between 'new' and 'old' EU countries. 
The 'old age' EU. This country is an EU member state for more than 30 years; the participants from this country can advice and share their vast experience in being at EU and what it means to them. The 'middle age' EU. This country(ies) has joined EU more than 7 years before but less than 30. It means that participants have experienced how their country has changed after the accession to EU. 
The 'new age' EU. This country(ies) is among the youngest members in EU. The people/participants are the most excited of all about EU; they can share their experience on how they felt when they became citizens of EU and how that changed their ordinary life.

Each participant has to share knowledge about citizenship in EU: the good practices, the 
opportunities, the challenges as well as the difficulties of being an EU citizen.

Objectives:
Promote the EU citizenship among young people from different EU countries;
Encourage the youth to follow the example of EU citizen;
Find out which issues the EU youth face today and possible solutions on how to solve them using participants' experience;
Exchange the experience of being EU citizen: advice, encouragement, motivation and inspiration to each other;
Encourage participants to disseminate the EU citizenship idea at their closest environment and to their peers. 

The participants have to understand and analyze the importance of EU citizenship. The activities performed by participants during the project are oriented and focused on participants' self-assessment, creative self-expression, presentation and sharing of experience with other participants and self-evaluation. Participants will be engaged to workshops, group games and tasks, seminars, sharing good practices and their experience 
living in various EU countries. Moreover, there will be outdoor activities and meetings/discussions with EURES organization, environmental friendly company representatives, social-cultural excursions, among others. These activities demand creativity and sharing of knowledge about EU citizenship. In this way, all the participants will be actively involved in the various activities.