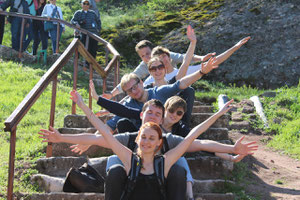 20-26.04.2013
Belogardchik, Bułgaria
SMIT "CREATOR" members were participating in a YE titled Wonderful job all co-ordinated by Future in the past and held in Belogardchik, Bułgaria. 
Participants in the project will be 35 young people from 5 European countries.
The theme of the project is the use of natural wonders for decreasing the youth unemployment
The primary aim of the project is to rise the knowledge of the young people about natural wonders (objects) and how to use efficiently and creatively their potential for creating alternatives for youth employment.
Youths will be given the task to design, plan and realize in practice different innovative projects, which are to find place in the exchange itself and as follow up activities as well.
We are planning to organize outdoor volunteer activities related to one of the important objects of cultural heritage in benefit of the local community.
The working methods we will use are "group work" in small groups, "learning by doing", "interactive presentations", "brainstorming", etc.