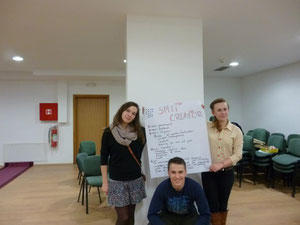 17-22.03.2013
Mostar, Bosnia&Herzegovina
SMIT "CREATOR" members were participating in a PBA titled Join the Youth Green Side all co-ordinated by Narenta and held in Mostar, Bosnia&Herzegovina. 
The project brings together 30 youth leaders, trainers, youth workers, project managers, and volunteers from 5 EU (Poland, Portugal, Romania, Italy, Slovenia) countries, 2 EECA (Ukraine, Belarus) and 3 SEE (Albania, Serbia, Bosnia and Herzegovina). "Join the Youth Green Side" is a partnership building activity held in Sarajevo between 6th and 11th November 2012. The aim is to raise visibility and awareness of the Youth in Action programme opportunities for trans-national co-operation in order to promote strong pro-ecological behaviors, create solutions for current ecological situation and support the European strategies in that matter.The project will include workshops, visits and simulations giving the possibility to all 30 participants to work together in the areas of: youth projects, European awersess and Youth in Action.This PBA is intended to strengthen the ties between Partners involved in the Project and to develop further actions under the Youth in Action Programme. Moreover it is a perfect possibility to exchange experience, good practice, improve quality through the provision of new tools as well as working methods and contacts necessary for networking and partner-finding.