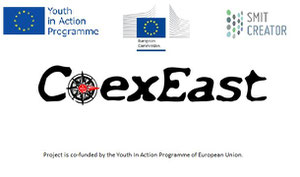 Bielsko - Biała, Poland
13 - 20.03.2013
SMIT "CREATOR" is happy to announce that our project "CoexEast" was approved!The Project CoexEast is a Training Course held in Bielsko-Biała between 13 - 20 March 2013.
It is a transnational co-operationproject focused mainly on anti-discrimination and anti-xenophobia issues in a globalised world. Together with it, other subjectswill be brought up, such as: inter-cultural and inter-religious dialogue, democracy, European awareness and citizenship orhuman rights.Training aims at transferring knowledge, expanding skills, shaping positive attitudes of the trainers and building mutualunderstanding between countries, despite their historical and cultural differences in order to raise awareness for the protectionof human rights and personal dignity. Together with increasing of human potential by providing learning opportunities to developpersonal skills and professional competencies.
Project is co-funded by the Youth In Action Programme of European Union.