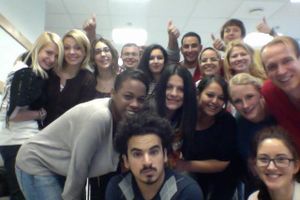 19 - 25.11.2012
Vilinus, Lithuania
SMIT "CREATOR" members were participating in a seminar titled Youth for Arab Baltic Cooperation co-ordinated by Kulturos centras "In Actio", and held in Vilnius, Lithuania.
This November Kulturos centras "In Actio", together with other members of Lithuanian ALF
network is organizing event - Arab Culture Days. One of the main parts of this project will be
international seminar "Youth for Arab Baltic Cooperation".
By organizing this seminar we seek to open new opportunities for youth or youth coordinators
from both regions to build new ways for equal cooperation, share our best practices and ensure
development of common activities.
During the seminar participants will have opportunity to share their experience and knowledge
on non-formal education, develop new skills for involving media and local society.
Aim of this project is to strength cooperation between Arab An Baltic sea Regions by:
• Giving a space for NGO's to meet in order to start and/ or strengthen cooperation
• Preparing future cooperation activities /projects between regions
• Stimulating mutual understanding and intercultural dialogue between regions
• Providing with tools /methods and programs (Youth in Action, Euromed, ALF) for future
cooperation
Detailed programme please see as separate document.
This seminar is a part of Anna Lindh Foundation Lithuanian network "Arab Culture Days".