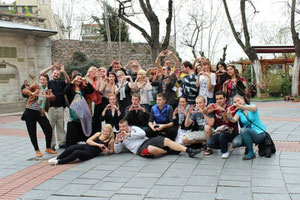 10-18 April 2012
İstanbul, Turkey

SMIT "CREATOR" is participating in a youth exchange titled Millennium Lovers on the stage, which is co-ordinated by Cultur Bridge and held in Istanbul, Turkey.


26 young people and 5 leaders from Turkey, Sweeden, Italy, Estonai and Poland countries will join our Project and we as Exceptions are Exempted Group will host them. The Project will take place in İstanbul, continue for 8 days and during these 8 days we will do the music and art activities such as Rtym Atels, folk dances, theatres to make young people come together and be unite. 

By the cooperation that supplied with the other young people, will supply for them to do empathy and understand the disabled people better and that will prevent the social excluded. Also in our Project we will focus on the opportunities and rights and regulations for keeping the rights that supplied for the disabled people by the European countries, also by this way it will be supplied to people be aware of rights of disabled people.